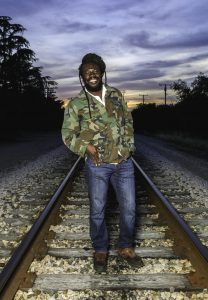 Oneko Arika (Jahneko) is a world-reknown percussionist, DJ, music teacher, and lover of all things music.  Born in Nairobi Kenya, Oneko was exposed to traditional African music through a cultural group training on the same premises where he competed as an amateur boxer for the Kenya Postes and Telecommunications Corporation.  Upon retiring from boxing, he launched his music career by writing and producing commercials in Kenya, and performing in live theatre productions. He still has a strong love for impromptu live sessions which is evident in his charismatic performances on percussion with many artists. Oneko has been playing percussion with Better Chemistry since 2011. He is thrilled to have contributed to several tracks on their new Fruit of Life album. Oneko was also recently featured in Rocky Dawuni's latest Grammy nominated album, Branches of the Same Tree, on the hit song called "Nairobi, I Love You."  He was behind the inspiration for this song after inviting Rocky to perform for his first time in Kenya in May 2011 under the nonprofit he co-founded, March Forth Kenya Kids.
Oneko has performed with several reggae and world artists.  In February 2017, he supported Rocky Dawuni on percussion to headline a world reknown  annual festival in Zanzibar island called Sauti za Busara.  He has also played in multiple other countries with Rocky including in Kenya at the "Chagua Peace Festival."  Chagua Peace was an important event held by the Kenya Red Cross in an effort to unite Kenyans and heal from the wounds of the post-election violence of 2008, as they went to the polls to elect a new President in 2013.  Additionally, Oneko has toured all 48 contiguous states in the US of A with Pato Banton and is featured in several tracks and videos. He continues to support Pato to this day with special guest appearances on percussion at select tour stops. Oneko is also the resident percussionist for Tippa Irie in his tours of the USA.  He has also enjoyed sharing the stage with other icons including Toots Hibbert (Jamaica), Khaira Arby (Mali), Huun Huur Tu (Russia), and Janka Nabay (Sierra Leone).
Oneko is a founding member of a band in Kenya called Senta Lain which is a fusion of spoken word, cuban rhythms and traditional African beats.   He was recently featured with his Senta Lain partner, Michel Ongaro, in the award-winning documentary, "The Music Lesson."  This project involved bringing classically trained youth musicians from Boston to Kenya to learn and teach music with local schoolchildren.  Oneko and Michel lead these students on not only a musical journey, but a life journey that was life changing.  After participating in The Music Lesson project, Oneko co-founded the non-profit March Forth Kenya Kids.  It was his dream to give back to the community that helped him grow into  the artist and man who he is today.  MFKK uses music and the arts, with a specific focus on reggae, to enrich the lives of Kenyan youth living under tough circumstances.  This nonprofit has grown into a very recognized and appreciated youth program in Nairobi Kenya.  His love of teaching and youth empowerment has lead him to conduct music and art workshops for  people on multiple continents. He also enjoys imparting his craft on the drum in 1:1 lessons.
Oneko is also a DJ. He currently has a weekly internet radio program called "Africa Reggae Road" on LockdownRadioUK. He has also hit the decks at several events in the Southern California area, including BoomyardLA, Delicious Vinyl, and many other local festivals and gigs.
Oneko first and foremost loves performing with other passionate musicians.  Equally fulfilling, he has spent a great deal of his free time using his talents to give back through teaching and hosting music workshops for children from the United States to Africa and in between.   Oneko splits his time between Los Angeles California, and Nairobi Kenya
Follow Oneko Arika…